Sometimes a plain old egg just won't cut it. I eat hard boiled eggs for breakfast at least once a week, if not more. So I was thinking of a way to shake up the egg, thus the Turkey Bacon Hard Boiled Egg was born. Enjoy this nice twist on the deviled egg!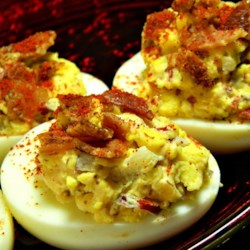 WeightWise Recipe
| | |
| --- | --- |
| | |
Place 6 eggs in medium size pot. Add water, covering eggs by about 1 inch. Place on medium-high heat and bring to a rolling boil.

Once boiling, remove from heat and cover. Let stand in hot water for 10 minutes.

Heat skillet over medium heat. Roughly chop bacon and add to skillet. Cook until browned and crispy (about 4-5 minutes).

Run eggs under cold water, then remove shell. Cut eggs in half lengthwise and remove the yolk.

Add yolk to a bowl. Combine mayo, mustard, pepper, and turkey bacon in bowl. Stir well.

Spoon mixture into eggs. Sprinkle with paprika.

Refrigerate for 20-30 minutes before serving.